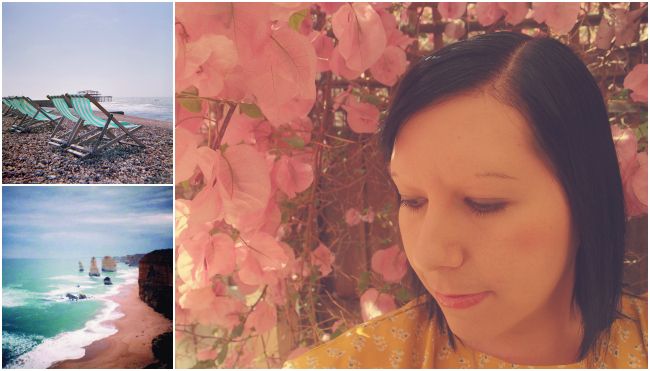 ABOUT THIS BLOG
Hello! I started this blog in June 2010. I had recently moved back to Australia after living in the UK, and that had meant leaving behind a job as an editor for a design publisher. I wanted to do something that would allow me to stay connected with that world, as well as learn more about my new home and document all of the lovely things that catch my eye, so this blog was born.
Here you will find me gushing over amazing homewares, graphic design, illustration, stationery, prints and handmade goods from the regions that are close to me (Australia and New Zealand), my former home (the UK), as well as the rest of the world. At times I also review nice books, try my hand at a DIY project, share some personal moments, and pick up my trusty camera to cover local design events and share tales of travels here in Australia and overseas.
Oh, and the name? I admit
Notes To a Further Excuse
doesn't have much (or anything) to do with design, but I spotted it years ago in the
Jeffrey Brown
comic
AEIOU: Any Easy Intimacy
, and just love how the words fit together. Simple as that!
ABOUT ME
My name is Diane and I currently live in Melbourne, Australia. I grew up on the outskirts of Brisbane and, after completing an honours degree in communications and working in a couple of mindless jobs, packed a bag and (like so many other Australians in their early twenties) headed over to the UK. I had a one-way ticket and no real plans, but ended up meeting a boy, falling in love and staying for five years, living by the seaside together in the lovely town of Brighton and Hove. In 2010 we thought it was time for a change, so decided to up sticks and see what life in Melbourne might be like.
In the UK I had begun a career in book publishing and, in August 2012, back in Australia and after many years of working in-house as an editor, project editor and managing editor, I set myself up as a full-time freelancer. I now spend my days working as a copy editor, proofreader, project manager and picture researcher, as well as writing this blog (and occasionally other things). My background is in non-fiction and illustrated publishing, and I have worked with a wide variety of authors and across all sorts of genres including design, crafts and handmade, illustration, food, lifestyle, travel, politics, biography, true crime and self-help -
here are some examples
of the books I've worked on.
When I'm not working or blogging, I love to craft and sew, drink coffee, cook vegan food, watch bands play, obsess over mid-century home and kitchenwares, take photographs and dream about my next travel adventure.
Thanks so much for stopping by and visiting
Notes to a Further Excuse
. I very much hope that you find something here you like! 

Please
drop me a line
if you'd like to get in touch about this blog, or to contact me about any collaborations or freelance projects.