I'm one of those lucky people whose birthday falls around Christmas, so this time of year involves putting together a combined birthday/Christmas wishlist to share with my family (as requested by my family, who say I can be fussy – they clearly don't read this blog!). And this year I have a 'big' birthday to celebrate (as everyone keeps reminding me!), so for a bit fun I thought I'd turn my ultimate wishlist into a visual collection to share here on the blog too. I found
Pinterest
a great help in gathering and refining the many, many things I've coveted throughout the year, ranging from accessories to crafty bits, homewares, prints and books (plus a couple of boring, grown-up things like a food processor and rice cooker, which I haven't included here!).
I know it sort of takes the fun and surprise out of gift giving, and can even seem a little presumptuous, but I'd be a pretty happy lady if I happened to receive any one of the lovely items here. How about you – what do you have your fingers crossed for this year? Perhaps this selection will help you decide, or even give you some awesome present ideas for a lovely person in your life. Enjoy, and have a happy weekend!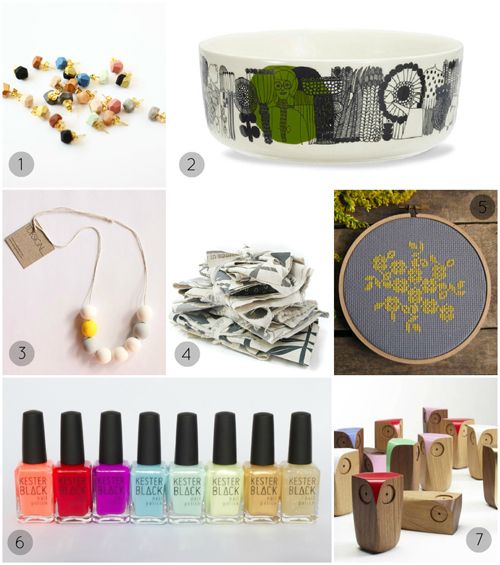 Above: 1. Geo earrings from
A Merry Mishap
/ 2. Large Siirtolapuutarha bowl from
Marimekko
/ 3. Bubble necklace from
T Design Store
/ 4. Fabric bundle scraps from
Skinny laMinx
/ 5. DIY cross stitch pattern and kit from
Chez Sucre Chez
/ 6. Non-toxic nail polish from
Kester Black
/ 7. Wooden owl from
Matt Pugh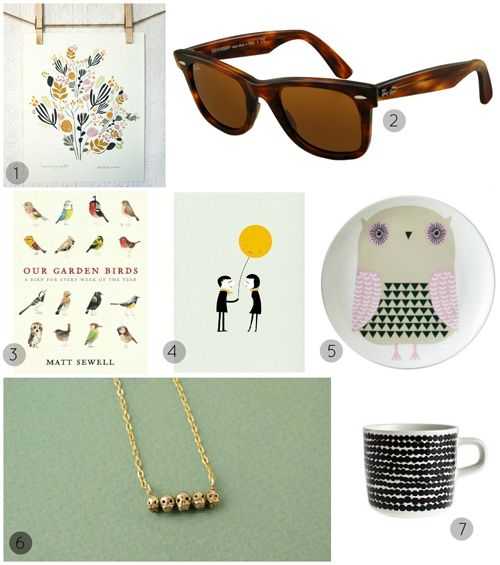 Above: 1. Morning Walk print by
Leah Duncan
/ 2. Tortoiseshell
Ray-Ban Wayfarer sunglasses
(to get me through the summer) / 3.
Our Garden Birds
by Matt Sewell / 4. Present print by
Blanca Gomez
/ 5. Owl plate by
Donna Wilson
/ 6. Tiny golden skull necklace from
Datter Industries
/ 7. Rasymatto coffee cup from
Marimekko