One of my favourite stalls from the Finders Keepers market on the weekend was from
Beneath The Sun
, the homewares and stationery collection from illustrator and designer Leah Bartholomew. Leah studied fine arts in Brisbane and Lismore before moving to Melbourne, where she went on to study graphics and screen printing. After her studies Leah scored a dream job with well-loved designer
Beci Orpin
, which gave her experience doing textile designs, T-shirt designs, illustrating books and making video clip props for a range of clients. After a couple of years Leah couldn't take the Melbourne winters anymore and decided to move back to the coastal region of northern New South Wales, which is where she is now based.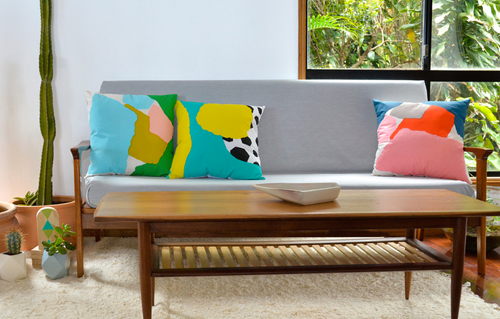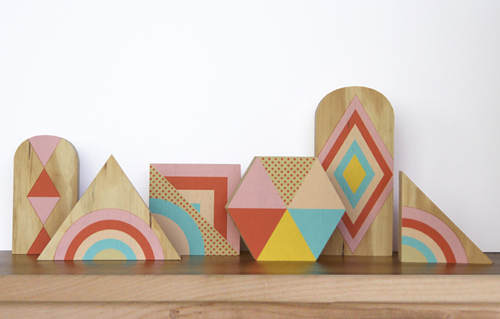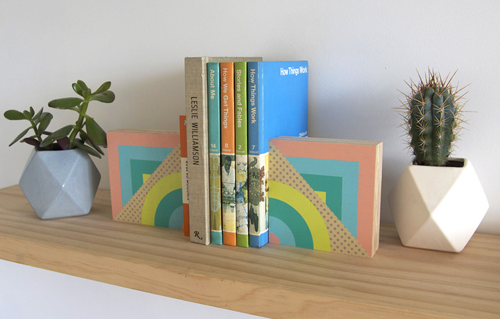 Leah's lovely hinterland surroundings might help to explain the colour, brightness and happiness of her work, as well as her incorporation of environmentally conscious and natural materials. Leah has a love for for bursts of colour as well as patterns, watercolour, collage and bold graphics, and she applies these elements across her cushions, pillow cases, tote bags, tea towels and stationery items. Leah recently launched her new spring/summer 2012 collection, Golden Days (shown here), which comprises new cushion, pillow case, tote bag, print and stationery designs, as well as some fantastic new planters and wooden decorations. I was super impressed with Leah's geometric wooden objects when I spotted them at the weekend – they're simple but beautiful, adorned with lovely summer-inspired colours, patterns and floral motifs. There are five sets of 'Woodys', as Leah has named them –
Geo Bright
,
Geo Pastel
,
In the Fields
,
Blue Space
and
Spring Fell
. Some of the wooden items can be used as bookends, while others are more for decoration purposes.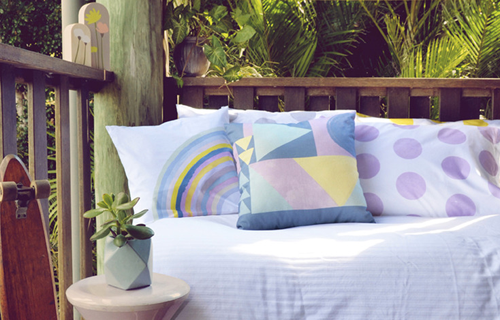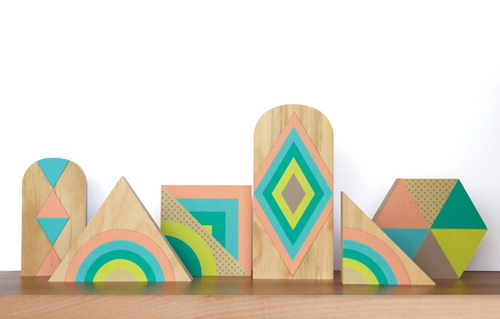 I have no doubt that Leah is a lady going places and that we're going to see much more of her in the future – and I for one can't wait to see what else she comes up with! To check out Leah's collection visit the
Beneath The Sun website
.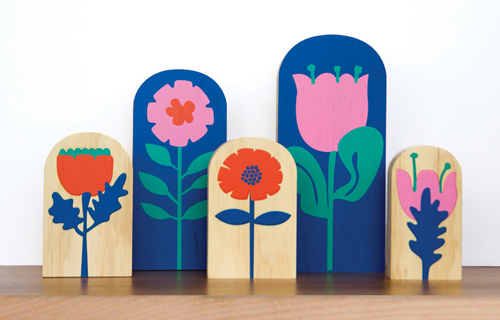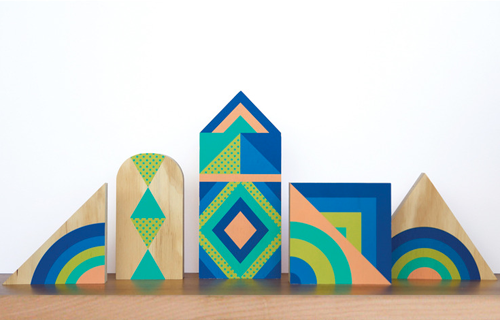 All images via Beneath The Sun