Hi all, I'm back in Melbourne after a fantastic holiday in the USA. Apologies for the lack of posts while I was away – I decided to have a complete break from everything in the end (apart from a little Tweeting and Instagramming), which was just what I needed. I have some Chicago and San Francisco posts in the works (hopefully to come next week), but in the meantime, while I'm catching up, I'll be sharing a few new things that have caught my eye recently.
First up are these great new prints by
Dominic Clifford
for
Keep Calm Gallery
. Dominic is a London-based illustrator with a passion for old books, mid-century packaging and world travel. The three prints – London, Paris and New York – focus not on famous landmarks but on the distinct character of each of the three cities, expressing the individual and distinctive architecture of each location. Urban foxes, broken windows, fast food, pigeons, and graffiti (actually taken from the walls of each city) complete the scenes.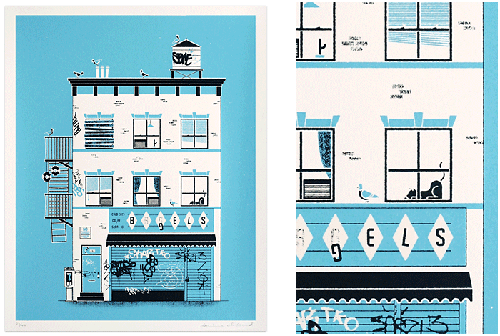 The prints have been screen printed by Domonic in small limited editions of 40 prints each, and are available from the
Keep Calm Gallery site
. And to see more of Domonic's great work, check out his
website
and
online shop
.