Hello all, I hope you had a great weekend. I wanted to kick off the week with something a little bit special in the form of these gorgeous new prints by Melbourne designer
Lara Cameron
. As you might already know, Lara is one half of the textile design studio
Ink & Spindle
. Stepping away from screen printed textiles for the moment, Lara decided to challenge herself creatively and do something new, and these are results – a set of three artist prints centred on native Australian florals.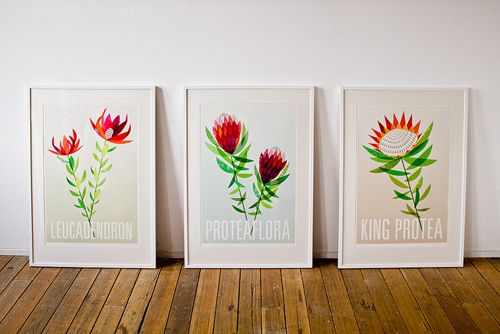 Each print has been giclee printed with archival inks onto ecologically-friendly stock made from bamboo and cotton rag. The prints are available as part of a limited edition run in either A1 or A2 sizes, and are available for purchase individually or as part of a set of three.
I really love the look Lara has achieved here, with a mix of vintage poster style, geometric shapes and beautiful colours. They remind me a little of vintage travel posters, and I really like the Australiana theme. They're just so bright and happy and would certainly cheer up any room - love them! Let's hope Lara decides to design some more prints in the future. If you'd like to see more, check out the
Ink & Spindle online shop
and
Lara's blog
.