Zeena Shah
is a textiles designer based in London, UK, who specialises in silk screenprinted home accessories and stationery. Zeena graduating from the Chelsea College of Art & Design in 2007, and has since worked in the interiors and fashion textiles industries. She launched her Zeena range in 2009, working from her London studio.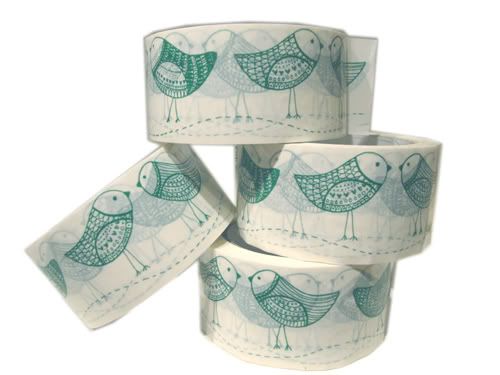 Zeena's extensive product range includes cushions, tea towels, tote bags, lavender bags, greeting cards, pin cushions, badges, sticky tape, paper cuts, wrapping paper and blankets, each item featuring Zeena's lovely illustrations. All of Zeena's fabrics are sourced locally from UK businesses and each product has a name and tells a story. So, there's a cushion called Fred, Sally sticky tape, little owls called Clive, birdy cards called Bob and Harriet heart sticky tape, just to name a few.
I of course love all of Zeena's owls and birds, especially her
Sally bird sticky tape
– I definitely need to get myself soome of this! If you'd like to see more of Zeena's work, check out her
website
(coming sooon),
blog
,
online shop
and
Etsy shop
.