I, by no stretch of the imagination, possess a green thumb (I'm barely keeping my poor basil plant alive in this cold weather), but it's something I aspire to. So when I spotted these fantastic
Little Veggie Patch Co.
seed packets in the Heide gift shop the other weekend I suddenly got all enthused about gardening. Yep, I really am that superficial!
This collection of Heirloom seeds has been designed for all sorts of veggie growers, and the packaging was developed by Adelaide-based designer Frank Aloi. Because the term 'heirloom' refers to an old variety, it was fitting that the packaging communicate a vintage feel via typography and illustration, and Frank also designed the packaging so that the seeds could be sold in non-traditional outlets such as gift and book shops.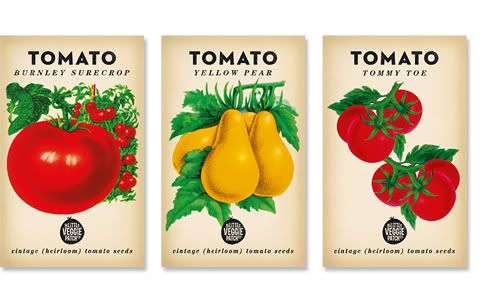 I think Frank has done a really effective job, and the seeds definitely look enticing sitting in a display box together. Frank also designed the great Little Veggie Patch Co. logo.
To see more from
The Veggie Patch Co.
pop over to the website, and to see more of Frank's work check out his portfolio
here
.