I think it's time for a little bit of stationery inspiration, don't you? And so, to
Dear Hancock Paper Goods
, a design studio based in the Los Angeles area and run by husband and wife team Gwendolyn Mason and Earnest Merritt. Gwendolyn and Earnest developed their studio in 2010 and made their debut at the National Stationery Show in New York earlier in the year. The Dear Hancock range, which includes stationery, custom invitations, greeting cards and prints, features original hand-painted illustrations by Gwendolyn and Earnest, each with a nod to nostalgia, humour and everyday life.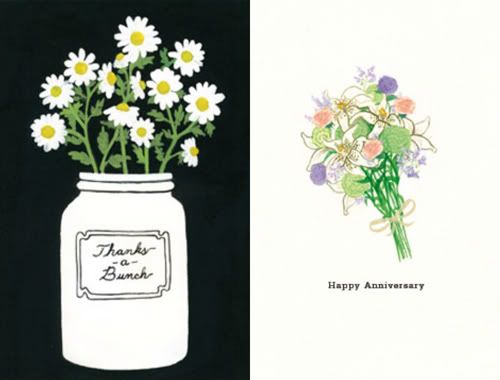 Gwendolyn and Earnest have such a wide variety of colourful illustrated paper goods available that there's sure to be something you like. I'm a fan of their
Desk Collection
, which features a range of different workspaces, each with a personality such as the book lover's desk and the crafter's desk. But there really is so much to like about their lovely range, and talk about nostalgic - I actually used to have a handmade patchwork dog when I was a child!
website
, and to see more also check out their
blog
. Not surprisingly, Gwendolyn and Earnest also have an amazing home and studio - you can check it out in this Design*Sponge
Sneak Peek
.