To say the release of
Design*Sponge at Home
has been eagerly anticipated is a bit of an understatement. With a massive global audience,
Design*Sponge
's reach goes far and wide, and I certainly wasn't the only one who was excited to hear that a book was in the works. Transforming a blog to the printed page doesn't come without its difficulties, and I was interested to see how Grace and the Design*Sponge team would approach the task. There is a need to offer more to readers than what is available online, and thankfully
Design*Sponge at Home
delivers, with a good mix of the best of the blog combined with brand new content.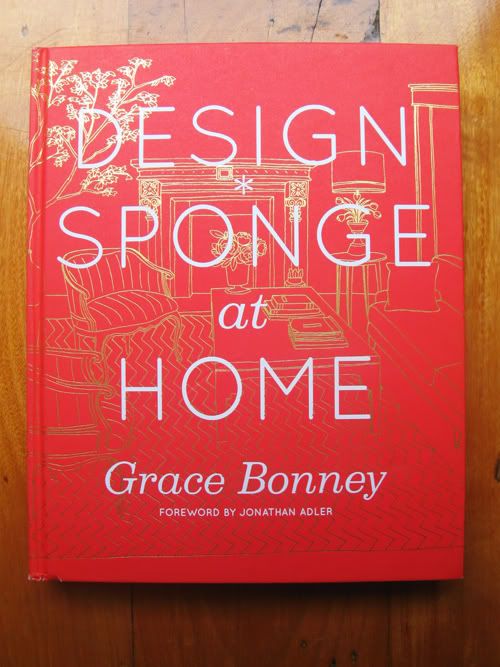 The book brings together two of the biggest features of the blog – home inspiration and do-it-yourself projects. The first half is dedicated to sneak peeks, and the second half to DIY tips and projects. Each sneak peek provides a brief overview, accompanied by a series of photographs and captions that offer further detail and description, as well as decorating tips, advice and information on further resources. On occasion, key design pieces – such as the Tolix, Thonet and Butterfly chair – are highlighted and explained. The large majority of homes are from the USA, with the odd home from France, Australia, Canada, South Africa, the Netherlands and Singapore included too. Because there is such a wide variety of decorating styles showcased, you're sure to find something you like and can take inspiration from. Some of my favourites include Jill Robertson and Jason Schulte's San Francisco home, Genifer Goodman Sohr's Nashville home, Lyn Gardener's Melbourne home, Heather Moore's Cape Town home, Morgan Satterfield's Hemet home and Shay-Ashley Ometz and Jeff Barfoot's Dallas home.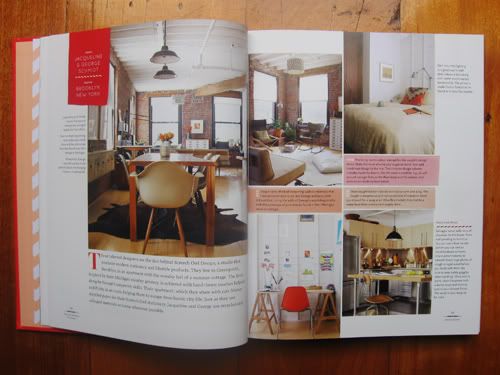 The DIY projects chapter presents twenty-five of Grace's favourite posts from the Design*Sponge archives as well as twenty-five new projects from readers and contributors. Each project is broken down by time, cost (in US dollars) and difficulty. There are a variety of projects on offer, from wine crate display cases to citronella candles to a terrarium how-to (I'd like to give this one a go!). The following chapter walks readers through DIY basics, offering tips, tricks and techniques for improving furniture and parts of your home. An overview of basic tools and other essentials demonstrates what to include in your kit (it's comforting to know I at least own a few of these items!), and the rest of the chapter offers advice on things like how to strip and paint wood furniture, hang wallpaper, sew a basic curtain and upholster furniture. This section of the book features cute illustrations by Brooklyn-based illustrator
Julia Rothman
. A flower workshop also walks readers through basic terms, tools, ideas and guidelines for arranging flowers. There are ten basic arrangements illustrating key lessons in floral design, as well as a series of arrangements that have been inspired by homes featured in the sneak peeks.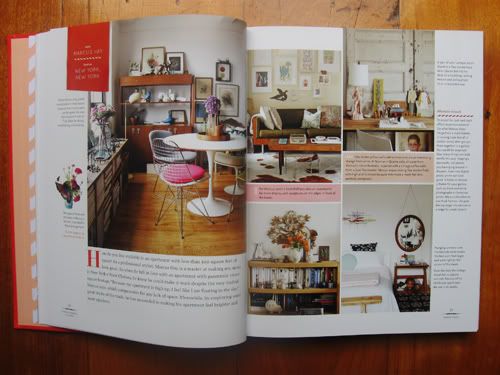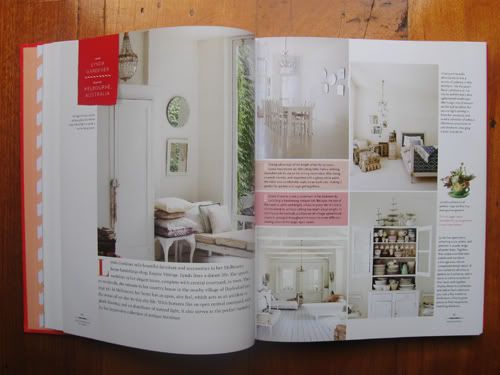 Finally, a before and after chapter showcases fifty projects broken down by cost, time and difficulty. The majority of projects have been created within the constraints of time, budget and an average construction skill set, making them suitable for a wide variety of readers. The before and afters range from pieces of furniture through to room renovations and overhauls. The book ends with a resource guide, although the listings are generally US-centric.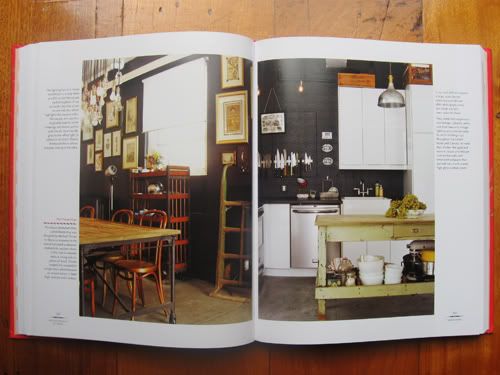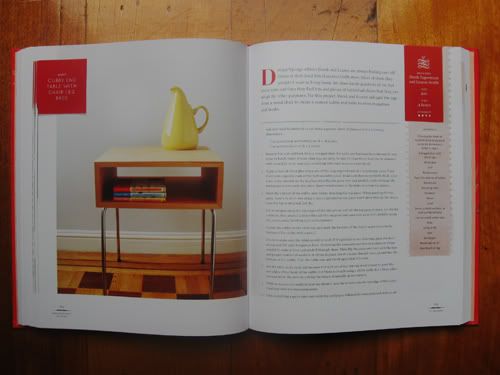 The book was designed by the team at ALSO, who have also been involved with the Design*Sponge blog design. The layouts are clean and easy to navigate, and each chapter features a pink 'handmade' opener incorporating pink ribbon (you can read about process here). On a total book nerd level, I'm a little unsure about the sturdiness of the uncoated stock that has been used on the cover, especially as this is such a large hardcover book of 400 pages (my copy was already a little battered after its journey in the post), but I do like the gold foiling effect. If you're interested in reading about the cover design process, check out Grace's post here. It offers a good insight into the steps that can sometimes goes into getting a book cover right finalised.
I was brimming with ideas after reading this book, and can't wait to try out a few things in my own home. I can also see myself picking it up and flicking through whenever I'm after a bit of decorating inspiration. I leant my copy to my dad (who considers himself to be a bit of a DIY enthusiast, although he doesn't always finish the projects he starts!) to read when he was visiting the other week, and he enjoyed looking through the sneak peeks and project ideas too.
Even though Design*Sponge is a massive team effort, it's also clear that this is a personal book, and Grace's enthusiasm and love for design clearly shines through every page. And the biggest thing to take away from this book is one of Grace's main objectives: that design – good design – should be accessible to all.
Design*Sponge at Home is out now in Australia through Hardie Grant Books. Grace and the Design*Sponge team will be coming to Sydney and Melbourne on their book tour in 2012. Exciting! Stay tuned to Design*Sponge for the announcement.